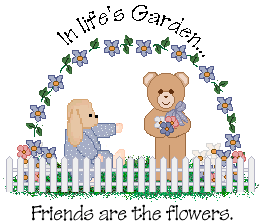 Here are some stitching Bulletin Boards for you to visit.This is a good way to meet people & exchange ideas! I also have a Bulletin Board here.

Xstitch Buddies BB
Craft Net Village
Xstitch Buddies BB
Cross Stitch Traders BB
Craft Pals BB

Lanarte BB
YarnTree BB
2 Busy Stitching BB
Wonderful Stitches BB
DMC Message Center

Cross Stitchers With A Vision BB
Needlecraft Showcase
Paula Vaughan BB

If you find any dead links,please email me.Thanks!


This page has been visited


times since 10-1-98.
This page last updated On 11-5-99
We found these graphics here: