---
Hello! This page is all about my family.
Marvin & I meet in 1978 & have been married for 15 years. He works in a factory making cans& I am a LPN in a nursing home. We have three kids & a sheltie dog named sadie.

As you can see, I love to cross stitch & I am starting to quilt. I also like working with the computer, taking walks with the family & being with the kids.I collect Precious Moments & Angels. I also love listening to my favorite band,U2.I also like to read & be with my friends.

Marv likes football, or just about any sport, being outside & fixing things.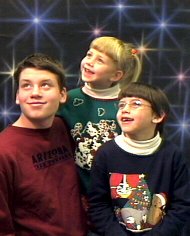 Aaron is our oldest boy, he is 15 years old & in the 9th grade. He likes to use the computer also, ride his bike, & being outside.

Alyssa is 8 years old & in the 3nd grade. She likes gymnastics (she has been it since she was 4), playing with her friends, & riding her bike.

Jessica is 6 years old. She likes anything to do with Winnie The Pooh,& the Rugrats, & playing with Alyssa.
Click here to see more pictures of me!
Sadie is a 4 1/2 year old sheltie. She fits right in our busy family! She likes to keep things in order!

The girls & I also like to collect Beanie Babys. I hope to have a beanie baby page soon.

Also, as soon as I get a scanner, I will scan some more of our photos.

---
---
This page has been visited

times since 10-1-98
---