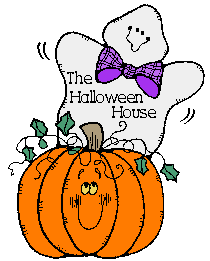 Halloween has always been one of our favorite holidays! How about you?
On this site you will find all sorts of fun things to do!
Watch out for the ghosts!
Thanks to all of you for sharing your ideas with me!If you would like to share any ideas,recipes,jokes,etc, please email me and I will add them to this site.Thanks!

Now playing at the Halloween House!

~Please sign our Guest Book. Thanks!~


Support freedom
~Our hearts & prayer's go out to the victims & their family's of the American tragedy in New York & Washington D.C.~
Any comments or suggestions? Please email me!


This page has been visited by


trick or treaters since 10-1-98
~This site was updated 8-26-2002~
~We found some of our graphics here:

~ So long Charlie Brown.We will miss you! ~