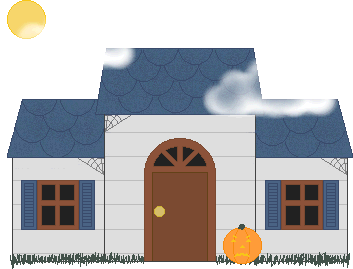 Want to have a Haughted House?
Here are some ideas to use.
First, you have to set the mood.Have some Halloween music playing in the background, & turn the lights down a little, not too much though,you do not want someone to trip! Or,you can use a black, or green light bulb, we got ours at Wal-Mart.
Second,you have to decorate it! Start by putting up some cobwebs. We use quilt batting or fiberfill that we stretch out to look like cobwebs or you can buy them in a store,which ever you would like!
We also put up orange & black crape paper, & balloons.
You can make your own invitations using construction paper & color crayons, markers & stickers. Make sure to put the time on them!
We like to have a part of the Haughted House be a guessing area. We take a cardboard box, cut out a hole big enough for hands to go through, then decorate it, & put it on it's side. We put a lot of these on a long table, then put different things in the boxes for the guest's to feel. We make them seem like scary things. Here are some ideas: For teeth, we use Indian corn kernels or unpopped popcorn. For fingers, use cut-up hotdogs.If it is not too scary, use cold, cooked spaghetti for brains.For eyes,use grapes.
Use whatever else you can think of ! Have the guests move down the table feeling one thing at a time. Have fun with it!
Have fun with your Haughted House! We serve treats & punch,play Halloween games, & make Halloween crafts.
This page has been visited
times.
It was last updated on 10-25-2000